Silly Scott is a Professional Children's Entertainer based in Portsmouth, Hampshire.
He offers quality family entertainment at children's birthday parties and Corporate Company Events in and around the Portsmouth area, and all across the South East of England.

Having performed over 400 shows last year, Silly Scott is one of the most sought after Family and children's Magicians.

He covers all aspects of magical entertainment from magic shows, face painting, balloon modelling, close up magic, weddings and themed parties.

Silly Scott has a wide variety of shows available with many different theme characters, so please call him if you are looking for a particular theme.
Theme Parties include: Magical Wizard Parties, Pirate & Princess Party, Clown, Silly Scott Magician, Hawaiian Beach Party, Christmas Elf - Magic of Christmas Show, Cowboy Wild West Party + much much more !!
If you have any problem viewing this video clip
or you are a Mac user please click on the link below, so that it can be viewed via youtube
http://www.youtube.com/user/sillyscottmagic
Silly Scott has been an established family entertainer for over 15 years, and has helped thousands of parents turn their children's parties into cherished memories that will last a lifetime. Over this time he has developed many different entertainment packages to suit every occasion. Booking Silly Scott for your child's next birthday party or Company Event will help to make it a simply unforgettable, successful and stress free experience guaranteed.

Silly Scott is a FULLTIME professional and Reliable Entertainer, and has become the most popular and sought after entertainer in the South of England. So whether your event is themed, at your home or in a hall, you can rest assured his unique entertainment packages will allow you the parents to relax and enjoy your child's special day too. All Prizes, Giveaways and Sweets are fully included in the price of his show packages.

Silly Scott holds an Enhanced CRB police check, All Electrical Equipment P.A.T Tested. Public Liability Insurance of £10,000,000 and is also a member of the entertainers union Equity and The Portsmouth & District Magic Circle. Copies of his CRB document, Public Liability and P.A.T certificate can be provided on request.

Comedy family magic show is fun packed with amazing magic and lots of laughter with participation from the children.

Comedy family magic show, with funky Balloon Modelling. Every Child receives a Balloon Model to take home (30ch max)
"STRESS FREE FULL PARTY" Balloon modelling, Mini Disco, Games, Competitions and Magic Show all prizes included.
We just wanted to say a massive Thank You to you for a fantastic party yesterday. Kahlen and her friends had a wonderful time. The only regret we have is that we didn't have your party bags because that felt the most stressful bit on the day, matching bags with children! You clearly love your job and you made our little girl's birthday very very special! You will definitely be highly recommended.

We hope to see you and your show again! Thanks again,

From Nikki, Gary and Kahlen, Surrey
It is always best to check your entertainers availability first before booking your venue. As it is generally known that weekends, mid-afternoon are the most in demand times, therefore flexibility in the time or date of your party maybe essential if you would like to secure Silly Scott's services. Weekday after school parties always a better option nowadays if you do not want your party clashing with another child's party on the same day. Which gives mum all the time in the world to prepare the food and decorate, while the children are at school.
All children love to have their face painted, and it is great to see their expressions when they look in the mirror.
From Fairies to Super Heroes, Pirates to Butterflies, Dinosaurs to Princesses. Silly Scott's fantastic team of face painters can bring them to life on any child's face.
Silly Scott's team of Face Painters combine their friendly personality together with an artistic flare, which makes them the ideal team to persuade even the coyest of child to have their face painted.
Silly Scott's professional team of Face Painters always keep up with all the latest trends and have a wide selection of different faces to choose from, they also specialize in Temporary Tattoo's, Nail Art and Burpo Stamps (which are great for cheek/arms and can be filled in with colour )
Special fee if booked with one of Silly Scott's party packages.
Face Painting can also be booked for children's birthday parties, fete's, fun days, corporate events, charity events, store promotions, Christmas parties, holiday camps, girls pamper parties and christenings, Pre Schools, Holiday Clubs, Football Clubs.
Face Painting

Always very popular with the children, so why not bring your child and all their party guests faces to life with one of Silly Scott's Face Painting team.

For more information (click here)

Party Bags

Party bags are great value at only £1.50 each, so why go through all the hassle when you can get them at this price. You only pay for the amount you use on the day, so no wasting money if some of your guest can't make it !!

For more information (click here)

Party Downloads

Lots of helpful stuff for your special day including: Party Invitations, Themed Cake Idea's, Guest Organiser, Halls & Venues in your Area, Who? and How many children to invite? + much much more

For more information (click here)
" I just wanted to drop you an email to let you know how very very impressed I was on Saturday, everything about Silly Scott is extremely professional and even the snow and icy conditions didn't deter you. My son (George) and his friends had a fantastic time and the party was fun and very entertaining. I would have no hesitations to use you again or recommend you. If I had to use three words to describe Silly Scott they would be - Excellent, Excellent, Excellent!!! "

Thank you again, All the best and see you next year!

Sue Allen - Fleet, Hampshire
WEDDING PACKAGES
Silly Scott also offers some amazing wedding packages which include This fantastic package is great to keep your guests entertained during the photo's and wedding breakfast

Goodie Bags for the children are priced at £1.50 per bag, you only pay for the number of bags you use on the day.

Face Painting, Tattoo Stamps and Nail Art, while Scott is entertaining the adults or twisting balloons.

Package 1 - Photo's & Wedding Breakfast

This package is great for entertaining your guests while the photo's are taken. After the service while all the photo's are being taken, i mix 'n' mingle with your guests performing some amazing strolling magic ( or if you would prefer i could entertain all the children with a fantastic magic show ). After the photo's are taken, i then continue to entertain yourself and all your guests with my unique style of highly entertaining close up magic at the tables between courses for the afternoon Wedding Breakfast ( especially the top table ).


Package 2 - Wedding Breakfast & Speeches ( Most Popular )

A special package that has proved highly successful at so many weddings, i mingle around your guests, while they are waiting to be seated for the afternoon Wedding Breakfast and perform some mind blowing close up magic, then continue to entertain everyone at their tables between courses ( especially the top table ).

As soon as the wedding breakfast has finished just before the speeches start, i whisk all the children away for a fantastic magic show & balloon modelling in another room or area while the speeches are taking place.

Which keeps both the adults and the children happy !

I have always been thanked by the Guests (they've been able to relax and not worry about their children), by the Bride & Groom and Organisers (they know the children have had a special day too), and the Venue are also always very impressed as they have had happy and controlled children.

This wedding package is great value. As most magicians charge this fee for just close up magic around the tables, you get the added bonus of keeping the children happy with a fantastic magic show and balloon modelling.

Goodie Bags for the children are priced at £1.50 per bag, you only pay for the number of bags you use on the day.


Package 3 - Kick start your evening celebrations

Why not living up that dull period in the day, early evening when all the guests from the morning and afternoon are waiting for the evening guests to arrive and the disco or band to start. Scott's unique style of close up magical entertainment is a wonderful ice-breaker and a great warm-up for the evening ahead. Intimate miracles are performed directly in front of the spectators! From adults and teens to children, everyone will be entertained with Scott's warm and friendly and exciting approach to close up magic.

This wedding package is guaranteed to be the ideal entertainment to kick start your evening celebrations.

Goodie Bags for the children are priced at £1.50 per bag, you only pay for the number of bags you use on the day.

Face Painting, Tattoo Stamps and Nail Art, while Scott is entertaining the adults or twisting balloons.


Dear Scott,

Just a quick note to say a HUGE Thank You for your entertainment during our Wedding. The package was just how you explained/we requested. The children and adults were amazed at your trickery and charm. You performed some truly amazing magic at the tables and kept the children very happy and content when needed most.

I have had such great feedback from our guests about you and have passed your contact details on for future bookings.

Once again Thank you

Karina Bartenback, Ringwood, Hampshire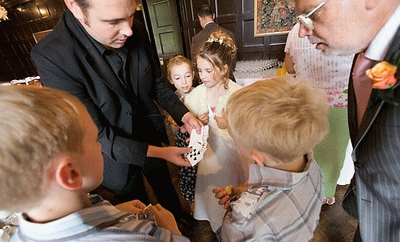 BOOKING A CHILDREN'S ENTERTAINER
It is a source of great sadness to me when I hear or read about parents and party organisers who speak in truly negative terms about their experience of an entertainer.

"He didn't really manage to control the children."

"I could have done her job much better myself."

"He never told me what he was planning to do."

It is clear to me that children's entertainer's differ greatly across the board.

Any looking for a bit of extra income can set themselves up as a children's entertainer but that does not mean they are any good. If you are used to paying £100 or less for your entertainer then, no doubt the above is probably what you have experienced. So for those of you who are unaware; there is a fabulous alternative to this type of entertainer.

I am a professional children's entertainer. This is not my part-time job. This is what I do for a living. I am equity registered. I am public liability insured. I hold full public liability insurance, all equipment that i use is P.A.T tested and have both CRB enhanced Police Check and an NHS safe Guard Certificates which I renew regularly.

When I arrive at a party; I am fully costumed and already performing. I bring along with me everything i need, so no need to borrow a table or extension leads ect. My props are colourful clean and all logo'ed with Silly Scott, i also bring two pop-up banners with colourful graphics on them, a smart curtain back drop and PAT tested professional pa system with radio handheld and headset microphones.
I run all my music off an ipod which allows for the slick transfer of one tune to another. Everything takes me less than ten minutes to set up and the same to pack down.

My parties are always very interactive with the young participants sitting down only for short periods during the show where they are still fully interacting by clapping their hands, calling and responding and laughing their heads off. My entertainment is always about having fun for the whole family. There is nothing vulgar, smutty or innuendos in the contents of my shows. I don't need to resort to these tactics to entertain children and I don't believe in using this sort of entertainment to get the adults to enjoy the show, everything is on one level and the jokes and humour are just as much fun for the parents as for the children.

As a result of my passion and dedication for my work; I am one of the busiest children's entertainers and regularly get booked on weekends at least 2/3 months in advance .

I guess what I'm trying to say is; you can expect more from your entertainer's. There are plenty of us out there who do this for a living and for whom this is not a 'fill in' or 'part time' job. To get the best; talk to your friends and colleagues, collect recommendations, watch the entertainer's at the parties of your children's friends and use entertainers that maintain high standards.

Children only have a party once a year and only for the shortest part of their life. I believe these experiences should be nothing short of magical and I believe it is worth taking the time to get it absolutely right. Don't you?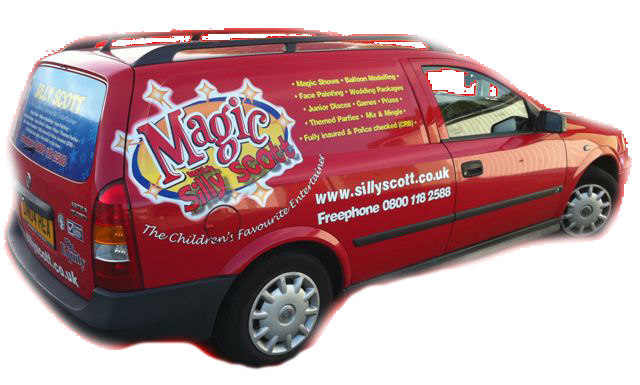 Contact Silly Scott today, via the details on the contact page, for quality children's entertainment in Portsmouth, Southampton, Fareham, Gosport, Winchester, Andover, Fleet, Farnbourgh, Alton, Chichester, Petersfield, Hedge End, Eastleigh, Reading, Bognor Regis, Hook, Fleet, Hampshire, Berkshire, West Sussex, Wiltshire, Dorset, Surrey and London.
CLICK HERE FOR MAIN SITE www.sillyscott.co.uk
For a children's entertainer in Portsmouth that will amaze your children, Children's Magician in Southampton that will leave you Spellbound or Children's Entertainment in Hampshire give me a CALL TODAY 01329 313 822
Site Copyright Silly Scott Professional Children's Entertainer ©2010